When you're buying a new vehicle, you're going to want to look at several factors, including gas mileage, technological features, and most importantly, safety. If you're on the market for a new SUV, there are plenty of safe options that will also align with your preferences.
Whether you're leasing or purchasing, if you're on the lookout for a new, safe SUV, check out some of the safest SUVs for 2021: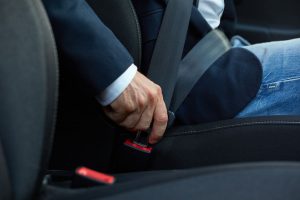 2020 Ford Edge
The Ford Edge is a midsize SUV that seats up to five passengers. This vehicle is especially great for families. The Ford Edge offers important safety features, including a 180-degree camera system, adaptive cruise control, lane centering assist, parking sensors and assists, and more!
2020 Kia Telluride 
The stylish Kia Telluride can seat up to eight passengers and has ranked nearly perfect in safety scores. This vehicle isn't shy of safety features, making it a great value. Some of the safety features include a rearview camera system, forward collision warning, pedestrian detection, automatic emergency braking, blind-spot monitoring, and more!
2020 Hyundai Palisade
The three-row Hyundai Palisade is another safe SUV option if you're looking for a larger vehicle. This SUV seats up to 8-passengers and has performed well in all six crash tests performed. Every Palisade has a rearview camera system, forward automatic emergency braking, forward collision warning, lane centering assist, adaptive cruise control, parking sensors, innovative rear occupant alert features, and more!
A unique feature of this vehicle is that it also offers pedestrian detection to alert you if there is a potential collision a head.  
2020 Subaru Ascent
If you're looking for a comfortable vehicle with a lot of storage space, the 2020 Subaru Ascent is the vehicle for you. This vehicle comfortably seats up to eight passengers, has all-wheel drive, and a generous amount of cargo space. The Subaru Ascent had good scores in all six IIHS crash tests, and the 2020 Ascent earned an overall five-star rating from the NHTSA.
Finding the Perfect Safe Vehicle for You
At 4N6XPRT Systems, we recognize how important vehicle safety is to you. That's why we've spent more than 20 years perfecting our accident reconstruction software tools to help attorneys, insurance companies, and law enforcement agencies establish fault in car accidents.
Need help making your case? Contact us today!