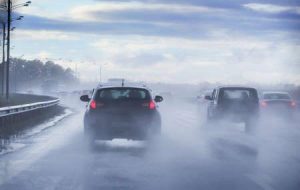 When most people think of seasonal driving hazards, their mind goes to things like winter snow and icy roads. Although winter can be a particularly dangerous time for drivers, that doesn't mean the summer season is without its risks.
As you're heading to your Fourth of July parties and late-night bonfires this summer, be on the lookout for these seasonal driving hazards to avoid.
1) Overheating Vehicle Parts
The summer heat can be surprisingly tough on cars. That's why it's essential to keep up with vehicle maintenance this time of year, such as coolant levels, oil changes, and tire pressure. Be aware and look for signs of overheating, like tire pressure and tread, brake functioning, a hot hood, and warning lights.
2) Construction
Good summer weather brings about many construction projects, which can bring about many driving hazards. As you're on the road, keep an eye out for construction signs and any equipment in your path, such as construction vehicles, cones, or roadblocks. Also, be aware that you may face heavier traffic, delays, detours, and work zone speed limits.
3) Cyclists
Bicyclists and motorcyclists will be another group of people out taking advantage of the summer weather. Be alert as you're driving and look for any cyclists around you, especially in your blind spots. When you do come across someone on a bike or motorcycle, be sure to give them plenty of room on the road.
4) Unpredictable Weather
No matter what city you live in, everybody has experienced a summer day that goes from calm and bright one minute to a torrential downpour the next. Check the weather before you head out during the summer and stay updated throughout the day to plan ahead and avoid driving in hazardous conditions, like a thunderstorm, hail, or tornado watch. If you get caught in dicey weather, go slower or, if necessary, consider pulling over altogether.
No matter how careful you are on your summer drives, sometimes an accident can be out of your hands. If you get into a crash, 4N6XPRT Systems can set you up with an accident construction report. Our forensic accident reconstruction and investigation software is highly accurate, providing you with crucial information you may need for court, insurance, or other purposes.
To learn more about our software and services, give us a call at 619-464-3478 today!