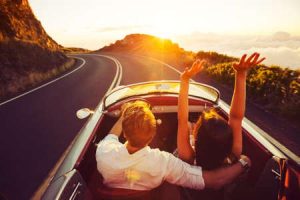 Road trips can be a great way to travel, see the country and make memories that will last a lifetime. But if you're traveling in a car that's not equipped to drive a long distance, your special trip could become a disaster. It's bad enough to have car troubles on the way to the grocery store. Imagine dealing with an issue hundreds of miles away from home, perhaps even in a remote area.
Luckily, you can seriously cut down on the likelihood of this by ensuring your car is prepared for long-distance travel. Here are a few things you can do to prepare your vehicle:
Check Your Tires
It should go without saying you can't drive far without the right tires. Before you leave, make sure your tire pressure is at the proper level. Continue to do so every 1,000 miles or so. Underinflated tires can seriously harm your gas mileage. If you're overdue for a tire rotation or replacement, make sure you get that done before you leave home as well.
Check Fluid Levels
There are six key fluids that are vital to ensuring your vehicle performs as it should. The most important of these is your oil, which should be changed every 7,000 to 10,000 miles. Most modern cars will be able to tell you how much oil life you have left in your vehicle. Meanwhile, it's also important to make sure you have enough radiator, transmission, windshield, power steering and brake fluid for the trip.
Handle Any Maintenance Issues
Have a headlight or taillight out? You definitely have to get that fixed before you hit the road. If your check engine light is on, you absolutely need to see a mechanic before your trip. Any issues with your brakes should also be handled ahead of time.
Visually Check Your Engine
If you have ANY work done on your vehicle before the trip, lift your hood and visually inspect your engine for things like "wipe cloths" left on top of the engine. If you see anything like this, obviously, remove it. A high percentage of engine fires occur within 100 miles of having engine work done and are caused by mechanics shutting the hood without doing this last inspection for things left on top of then engine.
Preparing your vehicle for a long road trip will make it far less likely you deal with a breakdown or, worse, an accident. However, if an accident occurs regardless, the professionals at 4N6XPRT Systems may be able to help you. Our accident reconstruction report can be of great use to you for both insurance and legal purposes. Our highly-accurate software will provide you with the information you need. To learn more about our services, give us a call at 619-464-3478 today!